Elk
Our hunting areas share a large number of resident herds with surrounding ranches. We hunt out of a camp that is in the heart of good elk country which is accessible by a 4x4 vehicle. For rifle hunts we use the spot and stalk methods, and for bow hunts we have had the most success while calling during the rut. Half of the enjoyment of the hunt is the stories told from the day in the evening over a home cooked meal
.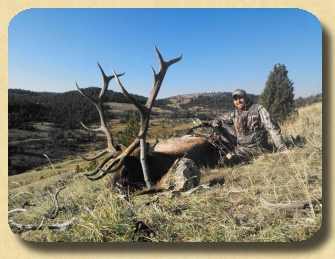 Archery: September 1 – September 30
Rifle: October 9 – November 15
Cow Elk Hunt
All hunts are 2 on 1 guided. One-on-one guided hunts for additional fee. Combo hunts are also available; please contact Forbes Outfitters for more information and pricing.
Our lodging is strategically placed throughout our property along the base of the Big Horn Mountains. The camps are rustic, yet modernly appointed with comfortable furnishings and fully equipped with showers. We provide deluxe wall tents with wood floors, cots, and stoves. Hearty and home cooked meals are prepared in the cookhouse cabins for breakfast and dinners, and lunch is packed for the field.